Meredith Reed is a real estate agent serving the town and surrounding communities of Park City, Utah. Efficient, smart, and professional while being a trusted friend, Meredith balances her calm groundedness with her business and real estate acumen to bring her clients so much more than a house.
Specializing in Park City-area lifestyle and real estate, serving Summit and Wasatch Counties with warmth, caring, and fun, Meredith offers a smooth and enjoyable experience. A seasoned real estate investor herself, Meredith has been investing in the Park City market for years and has the understanding and expertise to provide an amazing experience for sellers and buyers, alike.
Reed holds a master's degree in divinity from Vanderbilt University and served as an Air Force chaplain. She serves her clients with compassion, and her clear counsel and guidance cultivates immediate trust with her clients.
In addition to serving in the Air Force, Reed has supported the military community in many other professional roles. As a certified project management professional (PMP), she has provided project management expertise to the Army Casualty and Mortuary Affairs, the Army Wounded Warrior Program (AW2), the DoD Yellow Ribbon Reintegration Program, and served as a Senior Policy Advisor to the DoD Office of Warrior Care Policy.
Reed, and her husband, Army Col. Brad Reed, are the proud parents of four amazing children. They love living in Park City and enjoy all of the incredible outdoor activities the community offers. In addition to enjoying mountain biking and skiing, Reed is an avid horseman.
What's your military story?
I was commissioned in the Air Force in May 2001 as a chaplain candidate while I was in divinity school at Vanderbilt University. After graduation, ordination, and becoming a chaplain, I had the honor of serving at Maxwell AFB, Walter Reed (the old one), Pope AFB, Ramstein, Germany, and Lakenheath, England. I met my husband in the fall of 2007 during his first assignment at the Pentagon. He was working on the Joint Staff in the office of the Deputy Director for Special Operations; I was working as a civilian contractor for Army Casualty and Mortuary Affairs. We met at a weekend run. I had a registered for the Army Ten-Miiler that I wasn't going to be able to use. It was too late to transfer registrations, so he ran under my name!
Tell us about your business!
The week that we moved to Park City the first time in 2009, I turned to my husband and said, "I never want to leave!" Since he was on active duty in the Army, it wasn't quite time for us to stay put. We had a few more moves before we returned for good, but my heart has been here ever since.
Once we came back, I channeled that love of community and home into starting my real estate business with Coldwell Banker Residential Brokerage. I believe that home buying and selling should be dedicated to the client, their comfort and the absolute best outcome. With my extensive business and negotiation training, my clients receive the personal attention and forward-thinking investment strategy they deserve. Park City is a resort town, so there are lots of second homeowners here, who love this town as much as the full-time locals do, but we also have surrounding communities in the Wasatch Back with a diverse cross-section of buyers and sellers. I am thrilled to work with all of them.
What inspired you to take the plunge and start your own business?
This is a business I have been dreaming about for a long time. For as long as I can remember, I've been interested in home. It's important to me to create a warm and welcoming space that my family and friends enjoy. We love this community, and I love helping people make Park City their home as well! (It was easy to pick a domain for my website: lovelivingparkcity.com.) Once we knew we would be moving back to Park City permanently, I started working on doing everything I needed to have done to get this business going. I was ready for a change from management consulting, but I absolutely bring everything I learned in that arena to bear on my work in my real estate business; strategic planning, communication, marketing, financial management, all of these skills are needed in this business.
How has the military community and experience influenced your entrepreneurial journey?
Serving our country as an Air Force chaplain honed my listening skills, developed my intuitive abilities, and allowed me to help many people with challenging life issues. Now, as a real estate professional, I bring this same wisdom, compassion and caring to address clients' home needs. I am passionate about being part of the solution, about creating the good that I want to see in my community, and about making a positive improvement in the lives of people around me. I am driven by my sense of duty fostered by my family who has served in the military for generations.
I was very close with my grandmother when I was growing up. She served as a nurse in the Army during World War II. After marrying my grandfather, who was also in the Army, she raised her family all over the world. Her care for her family, her service to her country, her commitment to her church, were all deeply inspiring to me. My military family, past and present, and the military communities I have been so fortunate to be a part of have been a huge influence on me my entire life.
What's been the hardest part of starting your own business?
I love sharing this community and helping other folks make this area home for them as well, but getting a business going is an uphill climb. To use a southern colloquialism, "You can't swing a dead cat without hitting a Realtor in Park City." It is a very saturated market, and it's challenging to demonstrate value and show what differentiates you in a crowded market. In addition, I've had my own limiting beliefs to set aside. I've had to learn not to be shy about talking about my business and to overcome my discomfort around sharing my business with friends and family. No one is going to be able to support you if they don't know what you're doing!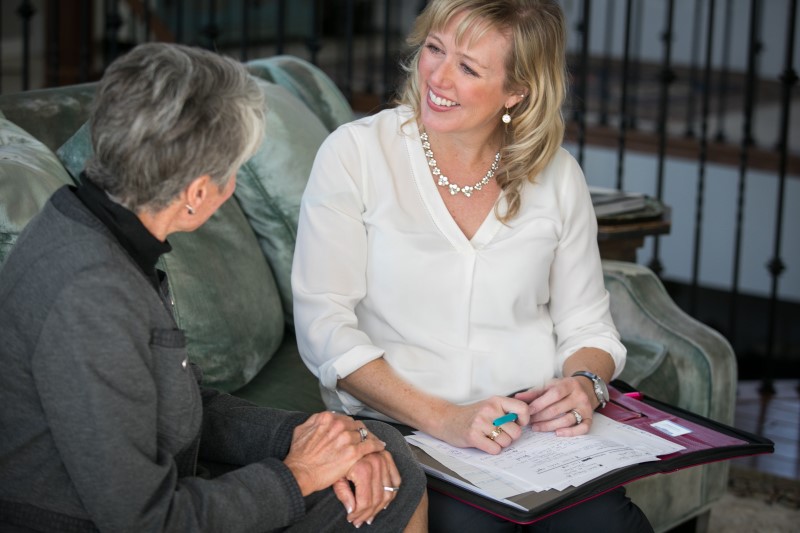 Military spouse and former Air Force chaplain Meredith Reed said she's been dreaming of her current career as a real estate agent in Park City, Utah, for a long time. (Courtesy photo)
What resources and programs have you found helpful in blazing your own trail?
The brokerage I joined, Coldwell Banker, offers great education courses for new agents. I had a lot of business experience from my work as a project manager, and many years of experience as a real estate investor, but there was definitely quite a bit for me to learn with the nuts and bolts of creating my own real estate business. That education has been quite helpful. Facebook groups like the Military Spouse Realtor Network, as well as the professional MilSpouse groups on Facebook, are excellent resources. I've also leaned on my military spouse tribe for encouragement and support, for sure! After living in so many places in the U.S. and Europe, I have an amazing group of friends who are happy to provide insight and wisdom and help keep me motivated.
Why do you think entrepreneurship is a good career opportunity for military spouses?
Entrepreneurship allows military spouses the freedom to develop their own professional life outside of the "slings and arrows" of the unpredictability that can be a big part of being married to a servicemember. Entrepreneurship provides an opportunity for military spouses to cultivate their own talents and interests to empower themselves in their professional life without waiting for stars to align for the right job opening to be available at the right time. Something that may, or may not, happen.
Additionally, there are some amazing entrepreneurial role models in the military spouse community, and there are many free resources available to spouses considering starting their own businesses - the Small Business Administration, the Chamber of Commerce, Entrepreneurship Bootcamp for Veterans' Families from Syracuse University, and many more. Most local chambers also provide assistance in developing a business plan, and networking groups that will help mentor and support someone who is starting a small business.
What advice would you give to other military spouses who want to start a business?
Get clear on what you're excited about, what gets you fired up, what's intriguing or compelling enough to keep your interest and focus through the business lags and the times when things aren't going quite right (or completely falling apart). Starting a business is very rarely something that produces immediate results. It takes time and patience and a willingness to be ok with uncertainty. When you have 'that thing' that gets you going, it will help sustain you through the tough times. Build your network as much as you can, the military spouse community is full of incredibly hard working and intelligent folks and we love to support each other. Keep in mind that you need to let people know what you're doing and that you'd appreciate their support. Communication is one of the keys to success!
How can readers connect with you?